Phillippa Carnemolla is an Industrial Designer, Research Associate and Access Consultant based in Sydney, Australia who is passionate about the benefits of inclusive design, particularly built environments. Her other love is to create pieces that are inspired by the geometry of nature.  Phillippa recently submitted her PhD thesis which measures the direct impact of home modifications on levels of caregiving and well being in community dwelling older people and people living with disability.
Phillippa is passionate about the benefits of inclusive design, particularly built environments. She conducts research within the Architecture Discipline at UNSW to explore the effects and outcomes of accessible built environments. Her main interests are in better understanding the role of housing and design in the health and well-being of a population. Her work has been cited by the Australian Productivity Commission on Aged Care.
Accessible Arts
Phillippa Carnemolla's inclusive exhibition "Botanical Songforms" was the culmination of a year of inspired work in animal and plant geometries and was a finalist in the 2013 NSW Premiers Award for Public Service. The centrepiece – "The Breathing Conifer"- was a large scale, kinetic community arts piece. Made with the assistance of over 100 young local people, The Breathing Conifer is composed of hand coloured, copper scales, moving in time with human breath.
Fine Jewellery
Her range of fine jewellery is created using 22k gold, sterling silver, diamonds, topaz and other precious gemstones and reflect the mapping of sacred geometry and in nature across the plant, animal and mineral domains. Phillippa has created a range of sculpture and jewellery celebrating universal geometries that link all life forms – and her pieces are often a merging of plant and celestial  with animal and her works pay homage to the mathematical codes of the universe.In recent creations her inspiration has focused on the geometry of flora and fauna. Phillippa's jewellery involves layering formal geometric forms with organic etchings and precious metal casting of plants and bees. This layering of organic and formal, light and dark, has translated into large merino wool felt pieces – one of which was the winning entry in the Women on Boards Art Prize for 2012 – a piece titled The Reunion Angel.
ABOUT THE BREATHING CONIFER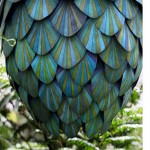 The highlight of Phillippa's residency has been the community arts project – the Breathing Conifer; a pulsating, kinetic sculpture merging a beating heart with a conifer (pine cone). Exhibited in the fernery of the Royal Botanic Garden Sydney in 2013, from March 7th through to May 31st, the Breathing Conifer has been made with the assistance of over 80 young people; a wonderfully diverse group from a wide range of abilities and backgrounds.
The Breathing Conifer was assembled from over 110 copper scales arranged in the same formation as the scales on a pine cone. Life is breathed into the sculpture via a motor placed within the pine cone formation. Each copper scale has been chemically etched, sandblasted and oxidised by Phillippa, then individually coloured in using Prismacolour pencils by each participant in the project.
The sculpture was designed as an inclusive project for young people regardless of ability or life situation.  The Breathing Conifer project received financial support from many individuals and organisations including the City of Sydney, the Freehills Foundation, and PLC Sydney P&C Association.
PREVIOUS EXHIBITIONS
FRUGAL
Ambush Gallery. 16-18 Nov,  2012
Alexandria
co-exhibitors; Ruth McDermott, Ben Baxter, Berto Pandolfo, Edward Coffey, Christian Tietz
SACRED GEOMS,
Balmain Watch House Gallery
Balmain Febr 2012
co-exhibitor; Associate Professor Oya Demirbilek.)
INTERPRETATIONS, Sheet Metal
GAFFA Gallery
Surry Hills
Sept 2009
co-exhibitors; Trent Jansen, Hugh Worthington, Andrew Simpson, Oliver Smith